Healthcare can be very expensive, even if you do have some type of coverage like Medicare Part B premium. There are often limits on what Medicaid will cover and it requires you to pay out-of-pocket.
For seniors, this can be very difficult if they are surviving on a fixed income. As we age we tend to have more medical issues and that can be difficult to cover. However, Medicare Part B premiums are going to be lowered.
What is Medicare Part B and Why Do Seniors Need It?
While Medicare Part A covers any hospital care you may need, Medicare Part B is medical insurance that helps seniors pay for other services from doctors and other healthcare providers.
This can include outpatient care, home health care, durable medical equipment, and some preventive services. Seniors can sign up for Plan B Medicare medical insurance by paying a monthly premium.
Monthly premiums will be based on your income, so those who have more income will pay more for their premiums. In order to be eligible for Medicare Part B, you must be at least 65 years old.
Seniors can benefit from enrolling in Plan B because it covers a lot of arrears that may not be covered. This is in place for seniors who are not working and have no group coverage from an employer.
How Much Does Medicare Part B Cost in 2023 and How Can Seniors Save Money on Premiums?
The good news for seniors is that the cost of Medicare Part B premium is going down in 2023. The monthly fee for Plan B in 2022 is $170.10, but that will be reduced to $164.90 in 2023.
While this may not seem like a big reduction, this certainly will add up over the entire year. To get the most out of Plan B, it's important that you enroll on time to avoid higher monthly costs, which is three months before you turn 65.
Another way to save is for seniors who are enrolled in Medicare and Social Security at the same time to have their Part B premiums deducted directly from their Social Security benefits.
Doing so isn't just a convenience. In some cases, it can save you from rising premium costs thanks to Medicare's hold-harmless provision. This acts as a protection to keep you from losing out on Social Security income when Part B premium increases are higher than the cost of living. Adjustments are applied to benefits each year.
You can also look into medicare Saving Programs. These are special programs in place to help low-income seniors pay their Medicare expenses which includes Part B premiums. These are funded through Medicaid, which is jointly funded by the state and federal governments,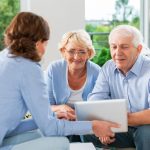 How to Lower the Costs of Medicare Part B Premiums in 2023 by Making the Right Choices Now
There are options available for lower-income seniors to get help with their Plan B payments in 2023. The premium you pay is based on not your current income, but that from two years ago.
If your income situation has changed, you can apply to Social Security to reduce your Medicare premiums. Social Security looks at your income from the previous year.
A lot can change in a year so you can apply to have your Plan B premium costs lowered. To request a reduction of your Medicare premium, contact your Social Security office or fill out form SSA-44 and submit it to the office by mail or in person.
You will need a copy of your most recent tax returns and anything that has changed recently in your life proving it is difficult for you to pay. Divorce, death of a partner, loss of income.
How to Become a Successful Senior with Lower Healthcare Costs
It is important that you talk to a healthcare insurance expert to find out if there are any programs available that you may qualify for. They can also help you find an insurance plan that will work best for you.
Too many people pay for items on their insurance that simply don't apply to them. Ideally, if you have a tailored plan, it can seem like you are paying more, but when you only pay for the services you need it helps to reduce the costs.
It's hard to plan for your medical future but the right plan can help you save money down the road. Taking better care of yourself and your health is a great way to start.
Choose in-network healthcare providers whenever possible. Ask for generic medications and use the benefits you do have to get regular check-ups and screening as a way to prevent any health problems that may arise.